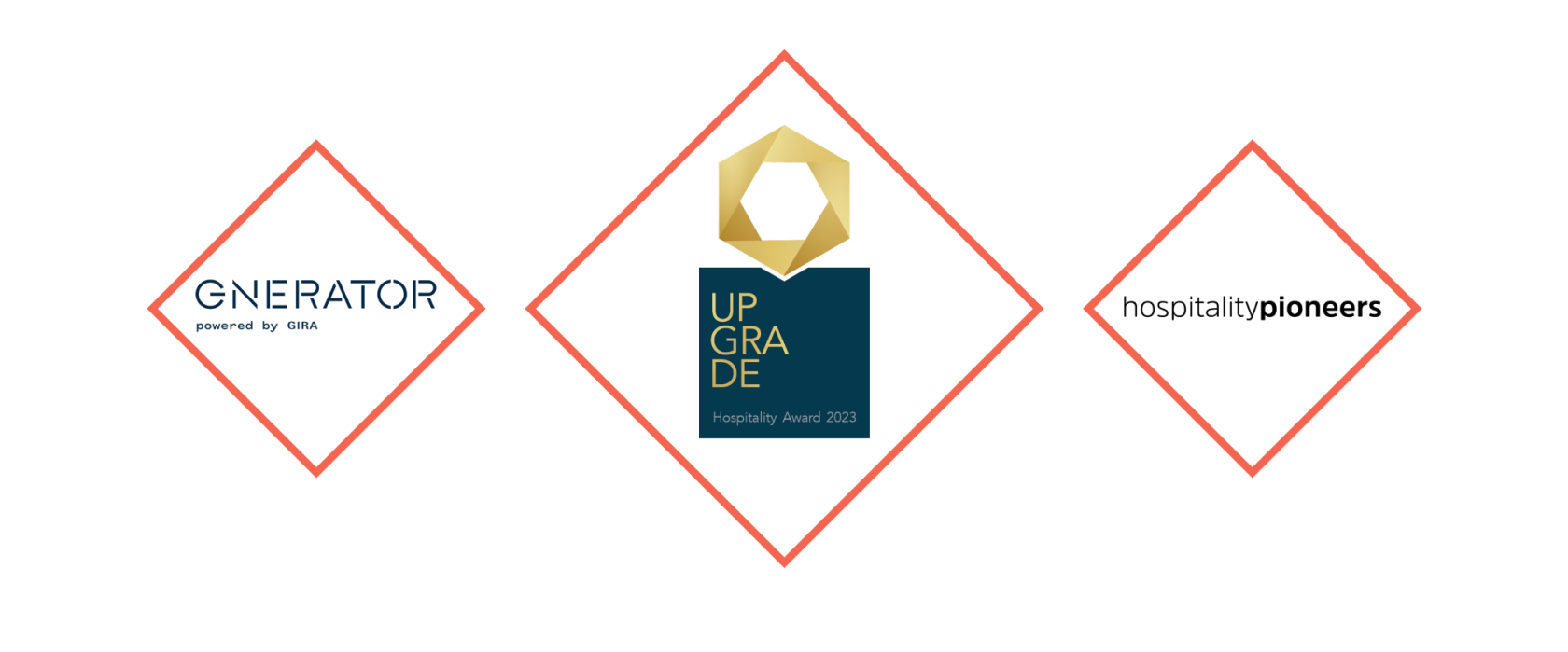 Hospitality UPGRADE Award
The Hospitality UPGRADE Award 2023 will be presented for the 6th time in collaboration with Hospitality Pioneers, and once again in partnership with GNERATOR powered by GIRA.

The prize will be awarded to the winner of the start-up pitch on 6 October on the same day by a jury of hotel experts. 
Start-ups from all over Europe are invited to apply, those that provide innovative and forward-thinking solutions contributing to the entire value chain, from hotel development to hotel operations:
✅ for process optimization
✅ for providing improved basis for decision-making
✅ for increased efficiency and conservation of resources
✅ for enhanced services and an elevated guest experience
Start-ups are eligible to take part, which were founded within the past ten years that can demonstrate a scalable business model, and whose market activities are innovative and growth orientated.
Change will not happen without the courage, the visions and the perseverance of young people who are shaping the future. Artificial intelligence will also play a major role in achieving this, being the focal point of this year's conference. The ongoing transformation is affecting all sectors, and ours is no exception. This is where we want to make a difference with the prize that we are offering.
Hospitality UPGRADE Award 2023

Participation is free of charge.
The UPGRADE advisory board nominates up to five finalists on a shortlist, and these finalists will pitch to an expert jury and to stakeholders from the hotel and property industry. The finalists will be able to attend the entire programme, including the gala evening and benefit from various networking opportunites with stakeholders of the hospitality and real estate industry.
The prize includes a one-year membership of the Hotel Properties Working Group, exhibitor space at 196+ forum Munich 2024 and an invitation to attend a GIRA event. Podcasts of Hospitality Pioneers will also be published with all five finalists.
---

2022 the Hospitality UPGRADE Award was awarded to PXNEL!
PXNEL has developed a modular wall covering system making it possible to attach a variety of panel modules with one simple click. The circular model makes it possible to extract around 90 per cent of the old parts and transform them into new panels with a fresh design. Omar Ghandour, co-founder and CEO of PXNEL, is delighted about the award, and explains: "PXNEL is for walls what apps are for smartphones: a unique, simple panel system that enables flexible, individual wall design."
The advisory board nominated five start-ups in September 2022 out of more than 30 applicants to pitch against each other at 196+ forum Munich.
Advisory board 2022:
Peter Bachmann, Managing Director, Das Sentinel Haus
Stefan Bezold, Vice President Sales DACH, FutureLog Europe
André Pinto Gomes, Senior Investment Manager Investment Management Hospitality, Union Investment Real Estate
Madlen Dietrich, Head of Unit Startup Economy and Digitalisation, Unternehmensverbände Berlin-Brandenburg
Markus Fromm-Wittenberg, Startup Ambassador, GNERATOR powered by GIRA (Gira Giersiepen)
Harro Grimmer, Managing Partner, MPP MEDING PLAN + PROJEKT
Olga Heuser, Founder & Managing Director, DialogShift
Florian Montag, Business Development Manager, Apaleo
Nils Ziehn, VP Product, Limehome
The following jury members attended the pitch in person along with Christian Fiedler: Peter Bachmann (Das Sentinel Haus), Markus Fromm-Wittenberg (GNERATOR powered by GIRA), Harro Grimmer (MPP Meding Plan + Projekt, Olga Heuser (DialogShift), Markus Marth (Schani Hotels), and Konstantinos Matsoukas (PropTech1).
2022 the following four finalists made it onto the hotelforum stage besides PXNEL (in alphabetical order):
Circonomit promotes environmentally-orientated decision-making by collecting standardised real data and integrating them into environmental impact assessments carried out on real estate, and thus also on companies.
Dripdrop is an automated umbrella lending system from Denmark that aims to reduce waste by avoiding, reducing, recycling and reusing umbrellas in hotels.
 
MiceRate is an automated revenue management system primarily aimed at the events sector, and is intended to be used as the basis for increasing revenue in the long term, and thus to enable a successful sales strategy for hotels with a strong MICE orientation.
Solaga uses algae pictures and walls to help reduce air pollution and increase biological energy production by microalgae, as well as developing the algae façades of the future.
---
Gallery
Please click on the images below to see a larger view.
---