Programme 196+ forum Vienna 2022
Finding meaningful connections is one of our main goals. That's why we came up with the connecting topic of Place Making, which combines our conference and the events of our partners Vienna Tourist Board and Museum Booster. How can the hospitality industry interact with other city players? How can we contribute in a sustainable way to create better places and cities? Have a look at the programme!
Start your Vienna experience right and join us for the Reception on Sunday, 27 November from 20:00 at the Radisson RED. We invite all our guests to a pre-conference networking get-together on the day before the conference. Let us refresh existing contacts and make new ones with a delicious drink in our hands.
Monday is conference day! The conference part of the 196+ forum Vienna takes place on Monday, 28 November starting from 08:00 at Hilton Park Vienna with about 300 attendees from the hospitality, living, tourism, leisure culture and museum sector. We cordially invite all our guests to the Gala Dinner "THE PLACE TO BE" at the Vienna City Hall from 18:30 onwards. Enjoy an evening in an enchanting location with an atmosphere worth remembering! During the dinner we will present this year´s winner of the Hotel Innovation Award.
To make your Vienna experience complete, save as well Tuesday, 29 November for us. We want to show you the latest hotel projects and bring you together with opinion leaders of the tourism and museum industry for exchange across those disciplines.
---
Please click on the images below to see a larger view.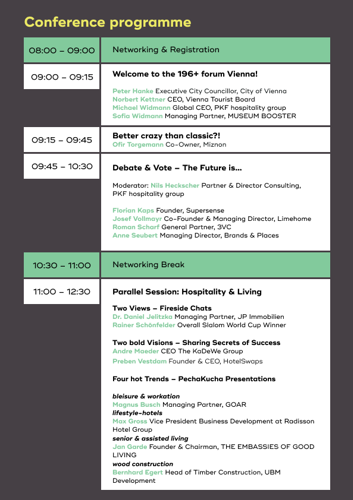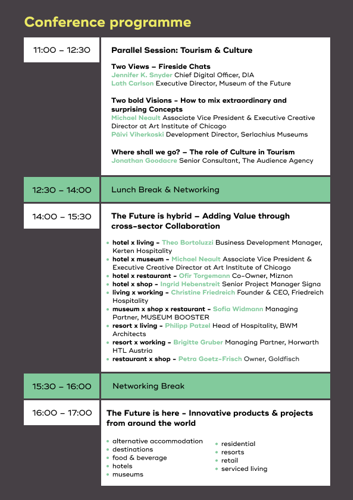 ---