Programme 196+ forum Vienna 2023
Together with the Vienna Tourist Board and Museum Booster we create an international platform that builds bridges and connects experts from various sectors. Expect three days of networking, panel discussions and cross-industry learnings with the main question being: What can we learn from each other and how can we cooperate?
---
What to expect
26 November 2023 Welcome Reception
To start the 196+ forum Vienna right, we will organise an informal Reception on Sunday evening. The location is still secret, but make yourself ready for a nice evening with your industry friends.
Informal Get-Together
Secret Location
Live Music and Drinks
27 November 2023 Conference Day
Monday is conference day! We will meet at The Hilton Vienna Park for a full day of inspirational content, infotainment and interactive workshops.
30+ international speaker
Focus sessions according to individual interests
8+ workshops with insights into best practices from other industries
Following a day of valuable networking we will meet for the Festive Dinner at The Weltmuseum Vienna and celebrate the winner of the Hotel Innovation Award 2023.*
*Please note: Only limited seating at the Festive Dinner available!
28 November 2023 Walk & Talk Tours
Join us on our Walk & Talk tours through Vienna organised together with our partners Vienna Tourist Board and Museum Booster. You can choose between several different tours, according to your interests. Even locals will experience something new.
---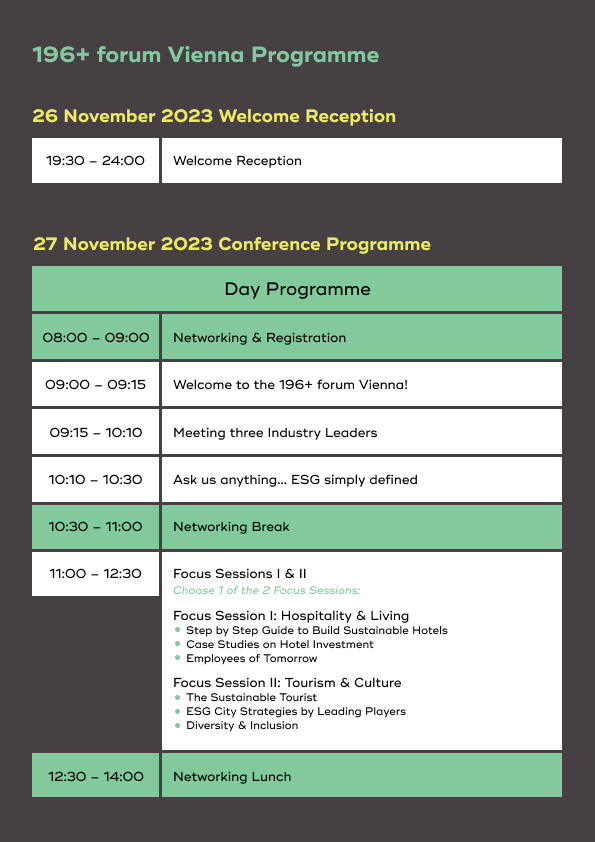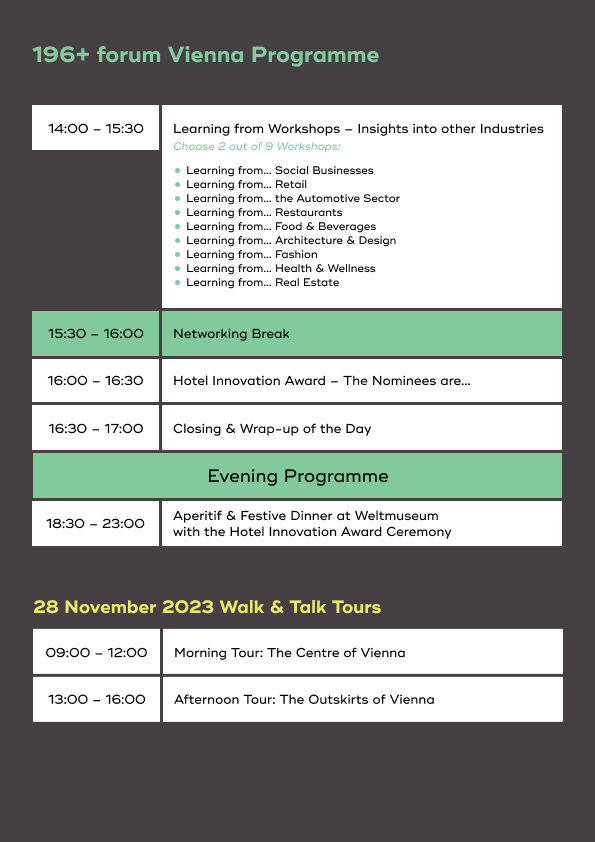 * Subject to modification. Please note: Only limited seating at the Festive Dinner available!
---
This year's Advisory Board
In order to make 196+ forum Vienna as amazing as last year, we welcome our Advisory Board Members 2023! Together with 19 experts from the hospitality, living, tourism, leisure, culture and museum sector, we have brainstormed, collected ideas and created a programme to make 196+ forum Vienna an unforgettable and insightful event.